There is no doubt about the value carpets and floor rugs provide to your house. Carpets offer a more elegant and luxurious outlook to your space. If you've had carpeted flooring in your home, you know carpets are not overrated. In this post, we will also talk about the best vacuum for delicate rugs.
However, keeping carpets in your home requires effort from your side. The elegance and grace provided by rugs come at a price. Carpets and floor rugs catch the most dirt in your house. In time if not cleaned, you will witness your graceful carpet turn into a grimy piece of fabric. Carpets require frequent cleaning compared to other household essentials. Thanks to cleaning devices like vacuum cleaners, your work is half reduced. It is convenient to perform carpet cleaning using vacuum cleaners. After all, why would you clean your carpet manually every day or week? But what if this convenience provided by vacuum cleaners is probably damaging your carpet? Without any further ado, let's find out if we can vacuum delicate rugs.
Can You Vacuum Delicate Rugs?
Vacuum cleaners use powerful suction mechanisms. Although it is most helpful in picking up dirt to the last bit, in this case, we have an anomaly. Continuous vacuuming has been shown to damage carpets and floor rugs. The fibres of carpets start to abrase and wear due to frequent vacuuming. Especially when we consider vacuuming delicate rugs, you need to be very careful. Soft and delicate carpets have a different fan base of their own.
Many homeowners prefer delicate rugs due to their light and simple design. As the name suggests, these carpets and rugs are sensitive to stressful conditions and need special careful handling. Wool rugs are one of the most commonly used delicate rugs. You can not use just any vacuum for cleaning delicate wool rugs.
Either the best vacuum for delicate rugs or the best vacuum for wool rugs. In this post, we answer all your questions concerning vacuuming delicate rugs. So let's begin with finding out how to vacuum a delicate rug?
How Do You Vacuum a Delicate Rug?
Not all floor rugs are the same. When vacuuming heavier wall-to-wall carpets, most vacuums work just fine. However, with delicate rugs, you are supposed to be vigilant. These carpets are often hand-woven or made up of sensitive fabric. Rough vacuuming of soft and delicate carpets can cause wear and abrasions.
To avoid this, firstly look into the best vacuum for delicate rugs. These vacuums are best suited for delicate rugs and provide gentle cleaning. Secondly, when vacuuming, keep the suction level set at the lower end.
Using high suction levels on soft carpets can damage the fibres and even tear the fabric. Thirdly, move the vacuum parallel to the pile. The fibres have a particular configuration, and you should consider them. Run the vacuum in the same direction as the fibres for smooth cleaning. Moving the vacuum opposite to the fibres can create friction between the brush and the fibres. This can be catastrophic for your rugs over prolonged use.
Regular vacuuming is proved essential even for getting rid of carpet allergies. If allergies are your concern with carpeting in your home, read how to get rid of carpet allergies.
How To Vacuum A Shag Rug For The Perfect Clean
A shag rug is a great addition to any room, but it can be a challenge to clean. Let's find out how to vacuum a shag rug for the perfect clean. Follow the steps below and get the perfect clean.
Step 1: Vacuum the Rug
The first step in cleaning a shag rug is to vacuum it. This will remove any dirt, dust, and debris that may be on the rug.
Step 2: Remove Hair and fuzz from the Rug
If you're looking to clean your shag rug, the first step is to remove any hair and fuzz. This can be done by using a vacuum cleaner with a crevice tool or a brush attachment.
Step 3: Clean the Rugs Edges and Corners
When cleaning a shag rug, it is important to clean the edges and corners as these areas can often accumulate more dirt and dust. To do this, use a vacuum cleaner with a crevice tool or edge brush.
Step 4: Clean the Rugs Middle section (the Core)
If you're looking to clean your shag rug properly, start by cleaning the middle section (the core) first. This is where the dirt and dust accumulate most, so it's essential to get it clean before moving on to the other sections. Use a vacuum cleaner with a crevice tool to get into those tight spaces and remove all the dirt and dust. Be sure to use a rug pad if needed to protect your flooring.
Shag rugs are a beautiful addition to any room, but they can be a pain to clean. With our tips, you will be able to vacuum your shag rug without any difficulty. Now let's find out if it's okay to use a vacuum cleaner on a wool rug.
Is it OK to Vacuum a Wool Rug?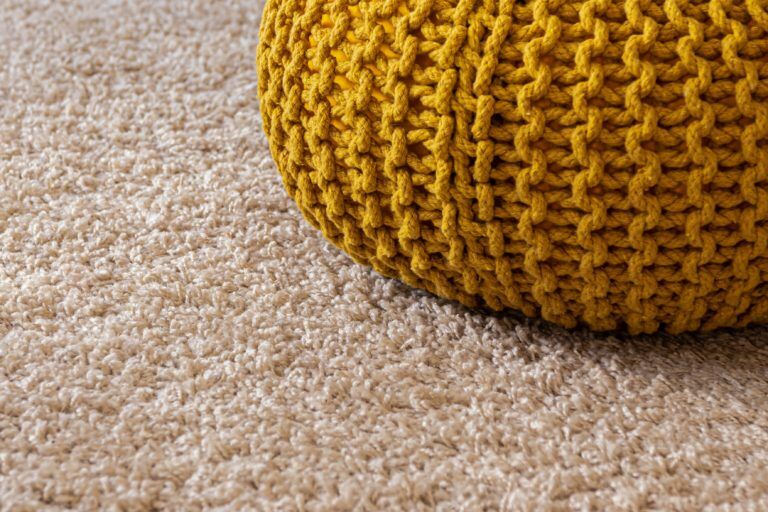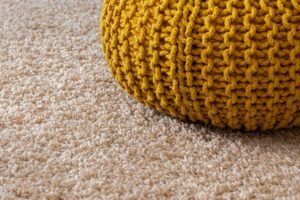 Wool rugs are one of the most elegant and cosy. Having a wool rug in your living lounge or bedroom gives a feeling of warmth and comfort. But like all other carpets, wool rugs catch a lot of dust and require frequent cleaning.
Now we know wool rugs are delicate and cannot be vacuumed like other carpets. So is it OK to vacuum a wool rug? Well absolutely! Vacuum cleaners provide convenience and save your time, and we can't tell you to clean wool rugs manually.
There's nothing wrong with vacuuming wool rugs as long as you do it carefully. Disable the rotating bristles and the beating bar, too, if your vacuum has one. Wool fibres are susceptible and easily shed when applied stress on. It would be sufficient to vacuum your delicate wool rug 2-3 times a month. Unfortunately, Wool rugs catch a lot of dirt with their curled fibres. So not vacuuming enough will leave you with a filthy and stained carpet. Not vacuuming is not a solution. Instead, use the best vacuum for wool rugs for cleaning wool carpets.
Do Wool Rugs Always Shed?
Wool rugs are undeniably precious components of home decor. However, there is one downside to consider. Wool rugs shed much more than any other material. When your new wool rug sheds. You are left asking, do wool rugs always shed, or you are unlucky.
Well, to state the fact, wool rugs always shed regardless of the quality. The shedding of wool rugs is not due to their quality deteriorating. If you buy a new wool rug, it will shed. So if your wool rug sheds, that doesn't make it fruitless. If you love wool rugs and want to have them in your space, you'll have to bear its shedding. Some wool rugs shed much more on average. These are the ones you have to avoid. That is something you can prevent at least by having wool rugs that shed the least. To what extent a wool rug sheds depends upon its material and make of rug.
Although we're only talking about wool rugs, various wools are used for making rugs, and not all wools have the exact origin. In the case of wool, the sheep breed makes the real difference. Sheeps residing in higher altitudes produce more high-quality wool. This high-quality wool is lanolin wool. When buying a wool rug ensure that it is made of the best quality wool for minimal shedding.
Furthermore, how the rug is made is crucial. Handmade wool rugs tend to be more durable and shed less. This is because handmade sewing requires every fibre individually locked in place. In comparison, tufted rugs are fragile and shed a lot. They are made by glueing the fibres on the base with a gun. This bond is weak and deteriorates over time.
Can You Vacuum Area Rugs?
Area rugs are a crucial component of home decor. More than just being a decoration item, they provide comfort and peace. Introducing an area rug in your space makes the place more cosy and welcoming.
Area rugs do not cover a lot of space like wall-to-wall carpets. They are commonly placed under a side table or lampstand, providing a touch of elegance. However, having an area rug is not all rainbows and sunshine.
Like all carpets, area rugs catch a lot of dirt and dust. Also, coffee and water stains once formed give the rug a messy and displeasing look. So an area rug, too, can't be just ignored. Area rugs require regular cleaning to maintain their original beauty. So can you vacuum area rugs? Well, yes, you can.
Area rugs require quite the same cleaning protocols as other carpets. Firstly, validate the fabric and material of your area rug. This is vital as there are several rugs in the market made of diverse materials.
Every fabric is unique and requires cleaning accordingly. If you have a reversible area rug then make sure to vacuum both sides of the rug. So the dirt and allergens on both sides get cleaned thoroughly. Furthermore, do not use a beater bar on area rugs. Avoid using rotating brushes on shag carpets as the fibres can get tangled.
How Do You Clean a Delicate Rug?
There are a lot of possible ways to clean a delicate rug. Cleaning a carpet is crucial as that inhibits the growth of fungal moulds and removes dirt. Although you have to keep in check with delicate rugs, the cleaning process is not damaging the carpet. After all, you cannot just leave a carpet on its own. Carpets become messier over time if not cleaned regularly. This gives our space a displeasing look.
You can clean a delicate rug in several ways. Using a vacuum is also a popular option. Vacuums are easier to handle and work efficiently. Just make sure your vacuum is not damaging your rug with rough cleaning. Vacuuming a delicate rug is very much like any other rug.
Furthermore, avoid vacuuming daily as that could damage the rug. You can instead give the rug a shake outside every now then, so the dust falls off. Doing this daily helps keep your carpet fresh and in shape. Lastly, you can also use a damp cloth or sponge to clean stains and moulds on the carpet.
Best Vacuum for Delicate Rugs
If you value your delicate carpets, you'd never make them a rough cleaning subject by average vacuums. You need the best vacuum for delicate rugs to do this job. Cleaning delicate rugs is not possible for just any vacuum in the market.
SEBO Automatic X5
Are you looking for a fully functional and competent cleaning companion? The SEBO Automatic X5 doesn't settle for average performance and usability. It is ideal for vacuuming sensitive and delicate carpets. The super-advanced features do not just provide ease of use but also greater functionality.
When cleaning soft surfaces and delicate carpets, the biggest concern is limited power capacity. The SEBO Automatic X5 nails its performance on soft rugs using automatic variable suction technology. The vacuum employs an electronic controller measurer. This makes the X5 intelligent enough to automatically tune the power and brush roll based on the surface.
Not just that, the electronic controller measure also provides signals for full bags, clogging, and other warnings. The suction power of the SEBO vacuum lies over 100CFM. This offers you a comfortable limit to clean delicate rugs without compromising the cleaning performance. The SEBO X5 has a bagged design with a bag capacity of 1.4 gallons.
Having a larger bag capacity, the X5 does not demand frequent bag replacement. Furthermore, the vacuum offers decent manoeuvrability for convenient cleaning. With the rubber overlay wheels, the SEBO X5 is smooth to move on any surface. Other than that, the polished wheels are no threat to your delicate rugs and soft carpets. This product is very likely the best vacuum for delicate rugs. The price point of this vacuum is well justified considering the features it provides.
Soniclean Soft Carpet
The Soniclean Soft Carpet, as the name suggests, is best suited for cleaning soft carpets. This vacuum caters to all the risks associated with gentle carpet cleaning. The upright design of the Soniclean SFC-7000 is modern and looks stunning.
The Soniclean soft clean SFC-7000 performs the best on shag and soft carpets. With a unique vibrating bar, the SFC-7000 provides unmatched cleaning performance. The bar is designed to vibrate vigorously to free up the dust stuck in the depths of the carpet fabric. Vibrating up to 200 times, the bar ensures your rug is well-cleaned under and above. With all this, the Soniclean SFC-7000 causes no damage whatsoever to your delicate carpeting. The brush bristles of this vacuum are very soft and do not cause abrasions.
Additionally, the SFC-7000 with various modes offers extended functionality to the user. It has a deep cleaning mode, floor, and carpet mode for efficient cleaning. This vacuum relieves you from worrying about clogging using jam protection. The dust bags are HEPA certified with a seal-tech system. This makes the use of Soniclean SFC-7000 safe for allergic people.
The Soniclean Soft Carpet has just the right features and design specifics. And the cleaning performance is ideal for soft and delicate carpets. All in all, you wouldn't regret buying this fascinating upright vacuum. Check out our in-depth review of the Soniclean soft carpet vacuum cleaner and why we love it?
Shark APEX Zero-M
Well, if you have used any shark products in the past, you'd know they don't disappoint at any front. The Shark APEX featuring the Zero-M technology is just another magnificent product in the glorious shark lineup.
The Zero-M technology uses a unique combination of the brush roll and a comb for more manageable and convenient cleaning. This technology enables the Shark APEX to untangle hair and threads stuck to the brush while cleaning. Using the lift-away design, this shark vacuum provides the same functionality and convenience as its predecessors.
In terms of cleaning performance, the Shark APEX makes no compromise. With a tremendous suction power of 300AW, it makes sure to leave no dirt behind. You might think that the high suction power can be catastrophic for soft and delicate carpets. Well, you shouldn't underestimate the APEX like that. It offers variable suction power for different surfaces. The separate modes for vacuuming on delicate and soft rugs are very reliable and efficient.
The Shark APEX is an excellent vacuum for delicate rugs on a budget. If you are a shark fan and care for your soft rugs, you should try this upright vacuum.
Kenmore Elite 21814 Cross Over
The Kenmore Elite is not your average canister vacuum. It strikes the right balance between performance, design, and ease of use. However, the 21814 CrossOver has a much higher price point comparatively. But considering the features and overall performance this vacuum provides, it's not overpriced at all. The Kenmore Elite CrossOver has a simple and minimalistic design. Note that with the Elite 21814, you won't get a flashy aesthetic design. If you are someone who values performance over appearance, then you need not worry.
The powerful cleaning of this vacuum ensures high-quality cleaning on all surfaces. The Kenmore Elite 21814 is very well equipped for cleaning soft and delicate carpets. With a strong cleaning power, the Elite 21814 ensures seamless cleaning. This vacuum offers smooth manoeuvrability with its unique swivel steering. The Kenmore Elite employs a bagged design with a decent bag capacity for dirt. Kenmore Elite is an all-around canister vacuum providing a satisfactory performance on all surfaces, exceptionally soft and delicate carpets.
Best Vacuum for Wool Rugs
Now, let's find out which are the best vacuum for wool rugs. However, if you invest in the best it will be best for the long run.
Shark HV 382 Vacuum Carpet Cleaner
Featuring DuoClean technology, this Shark rocket is one of the best vacuum for wool rugs. The cordless upright design adds up to provide a handy and convenient cleaning experience. With the relevant tools included, the Shark Rocket HV382 is excellent for cleaning delicate wool rugs.
You won't have to compromise your wool rug when cleaning with this vacuum. The Shark HV382 weighs just under 10lbs. Furthermore, it is even lighter when used in the handheld mode for above-floor cleaning. The floor nozzle features led lights for better cleaning under furniture and in dark spaces. The cleaning performance of the Shark HV382 is not impressive compared to other shark products, but it's still good enough.
Hoover Commercial CH32008
This canister vacuum by Hoover provides more value than one would expect from it. A lightweight bagged design weighing just 11lbs. The Hoover Commercial CH32008 has a large dust bag capacity of 9litres. However, the vacuum performs proper cleaning with smooth manoeuvrability.
The Commercial CH32008 poses no threat to your wool rugs. This vacuum will be an affordable option for you if you have wool rugs at home. The affordable price of just $120 makes it one of the best vacuum for soft rugs.
Tineco A11 Hero Cordless Stick Vacuum
This lightweight cordless stick vacuum design is one of a kind. The A11 hero is very compact, appearing as an electronic broom. After all, it looks nothing more than a just stick. Mind you, do not underestimate the performance of this mere stick. With a mighty motor, the Tineco A11 hero has a suction capacity of up to 120 Watts.
Furthermore, the A11 hero has a rechargeable power source and doesn't require a power cord. The 2500maH lithium-ion battery is sufficient to provide uninterrupted cleaning. The Tineco A11 comes with several tools and works excellent on all surfaces, exceedingly soft carpets, and area rugs.
Dyson V8 Absolute Cordless Stick Vacuum Cleaner
Dyson's swift and handheld vacuum is as good as any corded vacuum, if not much better. The Dyson V8 is easy to use; you can carry this vacuum with just one hand.
Also, it is not just restricted to handheld mode. Using the pipe tool, the vacuum can be extended to work as an upright vacuum. The Dyson V8 nails the domain of manoeuvrability. With a surprisingly lightweight design, Dyson V8 is the handiest and easy to store vacuum to date. The Dyson V8 works great on delicate carpets, soft rugs, and as well as hardwood floors.
so.. The Best Vacuum for Delicate Rugs – Final Verdict
Soft and delicate rugs have a significance of their own. Undoubtedly they play a crucial role in making our property look and feel like home. When it comes to cleaning delicate carpets, you must not compromise on either the cleanliness or your rug's health. Only the best vacuum for delicate rugs and the best carpet for wool rugs can help you clean your rugs while retaining their original structure. With the products mentioned above and techniques, you can keep your soft rugs looking fresh and new.
We hope this article serves its purpose in guiding you on caring for delicate rugs and the best vacuum for delicate rugs to buy.